Experienced Lawyers in Real Estate
Don't face your legal
challenges alone.
Having an experienced real estate lawyer on your side early in the sale or acquisition process will reduce risks and save you time and money. For most people, buying or selling a home is the largest and most important financial and legal transaction of their lives. It's critical that your assets and interests are protected and represented professionally.
Our team of real estate lawyers manages varied types of property transactions throughout Central Ontario – residential, agricultural, commercial, and industrial. We provide expert guidance to all sorts of clients, from first-time homebuyers to experienced investors.
Get in touch with us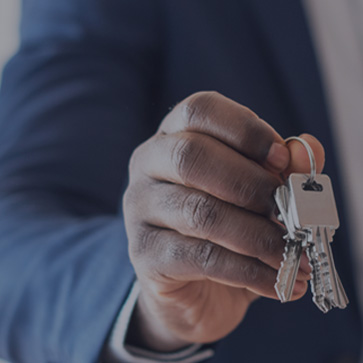 We assist our clients with a number of issues related to residential & commercial real estate, including:
Residential: With our extensive experience in all residential property transactions, our team has been instrumental in assisting thousands of people successfully buy or sell a home, cottage or condominium.  We know it's one of the biggest transactions most people undertake.  We are there to help guide our clients through the process, so all they have to worry about is packing.
Our residential real estate team understands the excitement and stress that's involved with buying or selling a home, and we have helped thousands of individuals and families succeed with their residential real estate transactions. We partner closely with our clients throughout the entire residential property process to ensure you have a thorough understanding of everything that's involved with the purchase or sale of your home, cottage, or condominium.
Our team works with a number of real estate related issues including: reviewing the terms of your listing agreement to sell a home, preparing the deeds or transfer, mortgage statements, tax bills, property survey, and utilities bills, and reviewing the terms when you receive an offer on your home. We also have a special focus on reviewing the terms of your offer to purchase and drafting conditions, representations, and warranties, mortgages and finance reviews, Title insurance policies, and Closing the transaction and registering the transfer and mortgage on your title.
Try our Land Transfer Tax Calculator
Commercial: Barriston specializes in the purchase and sale of commercial, agricultural, and industrial real estate, construction liens, mortgages and financing, as well as condominium and commercial development projects. We act as approved counsel to several of Canada's major banks and lending institutions in a variety of secured lending transactions, and we assist clients in sourcing and negotiating appropriate financing terms.
Our team represents private business owners, investors, and property developers, as well as public sector clients such as municipal governments and provincial government departments. We provide a complete range of commercial real estate services, including: Purchasing, selling, leasing, and assistance with structured financing of existing commercial, agricultural, or industrial properties, structuring development agreements and joint ventures, advising on land use and zoning matters, and commercial and industrial real estate syndication.
Expropriation: An increasing number of Ontario residents and businesses are receiving expropriation notices due to a spike in public transit development and other infrastructure improvement projects. Barriston offers a level of experience in this area that few firms in our region can match. Barriston has many years of experience helping both expropriating authorities and landowners deal with the procedural and compensation aspects of the expropriation process equitably.
We can handle your matter from the time the expropriating authority first expresses an interest in acquiring land, through the approval process, and the final determination of compensation by the Ontario Municipal Board or the courts. We understand expropriations can be stressful and difficult for property owners. We can help governments mitigate and reduce liabilities, and landowners receive fair market value for their properties

At Barriston, we understand the time and stress involved with buying or selling your home. That's why we have partnered with MoveSnap, an online concierge service that helps our clients complete their moving-related tasks in a snap, saving them time, money and stress. Our clients receive a complimentary link to this service when buying or selling their home. Just one of the little things that help us provide peace of mind.
"The employees at Barriston promptly responded to my questions via email which eased my anxieties during our transaction.  This is our third time dealing with your firm and we have always been treated with respect and courtesy. Our lawyers assistant was patient with all my questions and always responded to my email inquiries right away. Outstanding service!" – Real Estate Client
Experienced lawyers in
Real Estate.
Questions about Real Estate?
We'd love to hear from you.
Expropriation, in its simplest form, is the taking of privately owned land by a government body for public purposes. Expropriation often occurs when extensive infrastructure …