Experienced Lawyers in Mediators & Arbitrators
Don't face your legal
challenges alone.
In an effort to continue resolving conflicts while the courts have been suspended, Barriston Law has been conducting many mediations and arbitrations via video conferencing. Alternative Dispute Resolution Services are easily conducted virtually as tools are available to allow for private conversations as well as group discussion. This approach has allowed us to deliver peace of mind from a safe distance.
Barriston mediation and arbitration services are meant to deliver peace of mind. In mediation we help you find solutions to legal problems without having to go to court. In arbitration, we strive to give all parties the fairest decision in the most cost effective manner when you are not able to agree.
Get in touch with us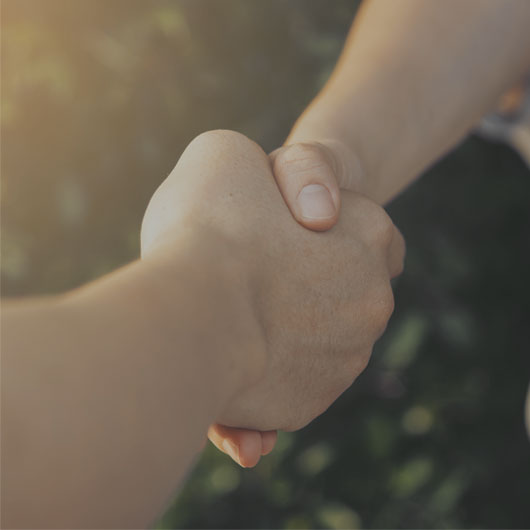 At Barriston Law, we believe in giving our clients peace of mind. If you find yourself in a dispute with someone, perhaps your employer, your neighbour, your builder, your spouse, or virtually anyone else, we can assist. Our first preference is to help you solve the dispute and help you move on. That's what Mediation is for. Our trained mediators can assist both parties in finding a mutually-agreeable solution.
Mediation is much less costly than going to court over a dispute. If both of you are in agreement, you can share the cost of the mediation services, cutting in half what it would cost for both of you to each retain a lawyer. Our mediators are trained to deal with the strong emotions which both parties might feel toward each other because of your dispute. They help you both focus on the problem and find a mutually acceptable solution which, hopefully, will reduce the tension and the pain which such conflicts can bring.
Our mediators are not judges. They won't give you the solution or make you do anything. They help the parties understand the problem from both sides so you can find your own solution which is usually far better than any solution imposed by a Judge – there's no winner and loser, you both win.
There are different kinds of mediation practices – we can offer evaluative, interest based, transformational or narrative mediation. All have a different place and all are often mixed together depending on the situation.
Once you reach an agreement in mediation it is important to take that agreement to a lawyer for legal advice. The mediated agreement is not legally binding until your lawyer and the lawyer for the other party put in writing for you and you both sign it. This is a "fail safe" mechanism to protect each party.
It is also important to remember that mediation is currently not a government regulated profession so you need to pick a mediator who has had the proper training. You can find out what mediators need to do to become certified by reviewing either the Family Mediation Canada web site at http://www.fmc.ca/ or the Family Dispute Resolution Institute of Ontario web site https://www.fdrio.ca/ . There you will see more information about mediation, as well. The Government of Ontario also has good information at http://www.attorneygeneral.jus.gov.on.ca/english/family/divorce/mediation/
If Mediation does not solve a dispute, Barriston also offers an out of court solution for you. Our trained arbitrators can assist. Arbitration is used in many types of disputes, as an alternative to the lengthy court system. Professional athletes use it all the time to resolve disputes over their salaries. In Ontario, arbitration is often used for things like commercial/contractual disputes, labour and spousal disputes. Arbitration is preferred over court because you can get to arbitration far more quickly than you can get before a trial judge. It is also more private, less formal and more flexible in creating a process for solving a particular problem. You can participate in arbitration with or without your lawyer but it is often better to have a lawyer, depending on the nature of your dispute. Our arbitrators can explain the pros and cons of arbitration for you if you wish to consider it.
If you have a dispute and you think arbitration will help, give us a call and we will explain how it can work for you. If you are having a dispute with your spouse, arbitration can be used for any problem, from the parenting plan to property division, anything at all which is confronting you. But there are special rules around "family arbitrations" which do require you to have a lawyer. Our arbitrators are completely familiar with all of the rules around arbitration. You can find out more about arbitration on the FDRIO web site and also at the Ontario Government web site at http://www.attorneygeneral.jus.gov.on.ca/english/family/arbitration/.
The beauty of mediation and arbitration is that you can combine them. One person can be your mediator and then, if mediation does not solve all of the problems, that same person can become the arbitrator who makes the decision for you. There are many pros and cons about this process which our skilled lawyers can explain to you.
All of these processes are only available if both parties wish to participate. Nobody can be forced into mediation or arbitration unless they agree.
If you would like to consider either mediation, mediation/arbitration or arbitration alone please contact Hannah Lankin, our mediation intake clerk at hlankin@barristonlaw.com or by telephone at 705-792-9200 ext 237. She can make an appointment for you with one of our specially trained lawyers who will answer any questions you might have about any of the above. We work hard to offer the best solutions for our clients in the most cost-efficient manner. Let us know how we can help.
"I was treated with dignity and first rate professionalism during a tough time for my family and I. Thank you so much" – Barriston Law Client
Experienced lawyers in
Mediators & Arbitrators.
Questions about Mediators & Arbitrators?
We'd love to hear from you.
Over several decades, mediation has proved to be a viable alternative to the traditional litigation process. Mediation offers a variety of benefits to parties involved …