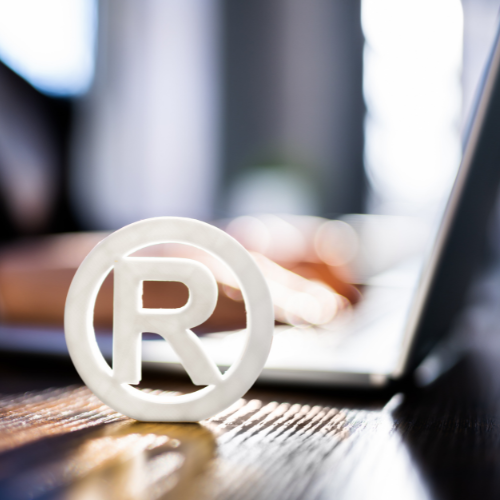 Looking to protect your IP? File now and protect your pockets.
The Canadian Intellectual Property Office ('CIPO') has announced that it will be increasing fees in 2024! The adjusted Fee amounts are effective January 1st, 2024 and reflect a 25% increase to most CIPO fees. This will affect filings for Patents, Trademarks, Official Marks, Copyright and Industrial Design.
Why? CIPO does not receive an annual budget for its operations from the Government of Canada, but instead is fully funded through the revenues it generates through services fees.[1] CIPO's last comprehensive review was in 2004, and based on current projections CIPO is expected to run out of money by September 2024.
The factors which have contributed to the increase include, inflation, labour costs, application volumes and capital investments such as IT infrastructure investment.[2]
Our office focuses on Trademark IP. The following is a breakdown of the increase for filing a new Trademark Application in 2024:[3]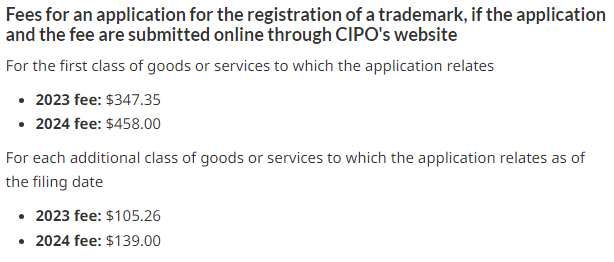 In addition, the Fees for the renewal of a Trademark will also increase effective January 1, 2024 and are as follows:[4]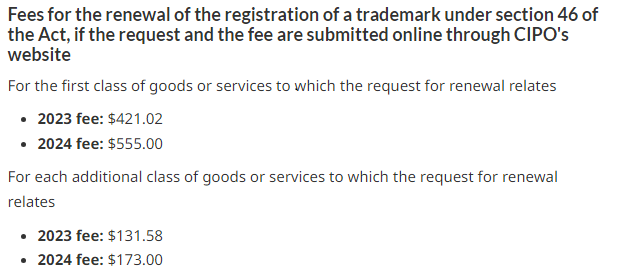 In order to enhance cost savings, you may wish to take advantage of the current fees prior to the new costs taking effect January 1st, 2024. Our office would be happy to discuss your IP portfolio and determine what actions need to be taken in order to avoid additional costs!
-Pamela Heary, Associate Lawyer
[1] https://gazette.gc.ca/rp-pr/p1/2022/2022-12-31/html/reg2-eng.html
[2] Ibid.
[3] https://ised-isde.canada.ca/site/canadian-intellectual-property-office/en/trademarks/fees-trademarks
[4] Ibid.